The final part of any power rankings is always the juiciest and we have six teams that could arguably win it all if things go their way. England are probably the most surprising one given their play, but I fall into the category that believes in progression to the mean. Italy have proven themselves time and time again, but getting past Spain and Germany just to reach the semis seems like a tall order even for them. Spain have the pedigree, but their defensive questions have reared their heads, and we have to wonder how many good games the great Andres Iniesta has left in him. France should be the trendy pick, but have been unconvincing despite the home field and talent advantage. One gets the feeling that Croatia could go to the finals if they get past Portugal, but it wouldn't be the first time that they disappointed their fans from an advantageous position. Germany is the logical pick, if they can figure out their forward situation (it looks like Joshua Kimmich is the answer at RB), especially if the Italy-Spain contest goes into extra time. Let's break down each team, using some more stats by Michael Caley, Footyintheclouds and 11tegen11
Here are the XG per match rankings, with 4 of the top 6 teams making our list (and Italy probably would have if they had anything to play for in their last game)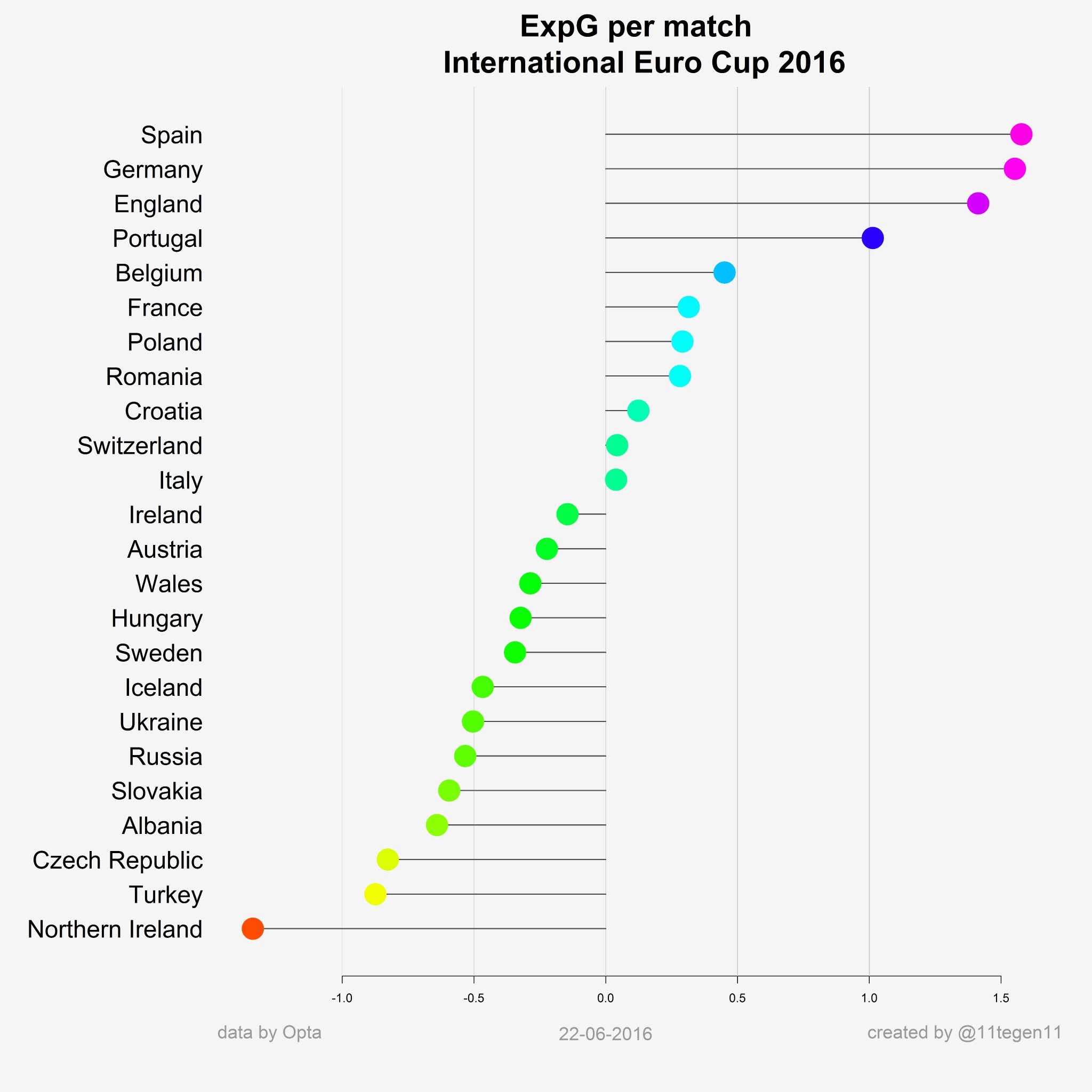 6.England –
Raise your hand if you had England as maybe the best defense! They allow just six shots per game, and conceded two incredibly fluky goals: the Gareth Bale free kick and the crazy Russian equalizer. It starts in the midfield: Eric Dier is a one man wrecking crew, Lallana and Ali are in the top 5 in passes blocked. Kyle Walker has probably been the best right back, completing 11 dribbles in two games and his replacement Nathaniel Clyne wasn't worse. Danny Rose is still doing Danny Rose thing at LB, and the Smalling, Cahill duo is averaging just 0.3 interceptions per game – because the ball never makes it that far. Check it out: 
On the other side of the ledger, who had them struggling to score with Rooney, Kane, Vardy, Sterling, Sturridge, Alli and Rashford? You could easily make the case that England deserved nine points, after all they lost two to a looping 93rd minute header vs Russia and they dominated Slovakia, as this pic shows:
Jamie Vardy is having a party – by himself! 
Here are seven more offensive problems in no particular order:
1.Eric Dier leads England in shots with nine, getting five of them blocked
2. Gary Cahill has taken the most shots inside the area with five, all from set pieces, four of the off target
3.Jamie Vardy has been isolated – see the map above and is 3 of 11 in aerial duels won.
4. Harry Kane has dropped too deep and is often not involved in the finishing part
5. no one likes Raheem Sterling, because he loses the ball with needless dribbling
6.Wayne Rooney has taken the old dude passing sideways mantle from Bastian Schweinsteiger
7. Dele Alli has gotten dispossessed nine times already
Still, despite all of that England are in a nice position having to play Iceland, whom they should dispatch easily. France on the other hand will be an entirely different animal, but it's certainly possible given their struggles.
5.Italy – Bringing the weakest squad in recent memory, dominating a favored opponent, then barely scraping by a weak Swedish team before resting everyone in style against Ireland yup this has got to be the Azzurri. Negative shot difference? Minus 9, check! Dead even XG numbers? Sure, 2.4 both ways. Spain being scared shitless? You betcha!
Yet, stats don't really explain this team, especially over a small sample, buoyed by basically 92 minutes of real football. Antonio Conte is the rare exception in an otherwise miserable international collection of national team managers, and his 3-5-2 completely befuddled Marc Wilmots, despite the Belgians preparing for it in practice (and losing 4-0 to the reserve squad, per sources).
Buffon is still the man and the Juventus defense has been its usual stingy self, with Leonardo Bonucci throwing his hat into the best CB in the game ring, with a sublime pass to Giaccherini against Belgium that satisfied the Pirlo long-ball cravings we all had. Antonio Candreva has a really good case for being Italy's second best player and his mobility and technical skill on the right hand side is a huge asset. Alessandro Florenzi has displaced the struggling Matteo Darmian and is a really solid two-way player. The central midfield has been a problematic area, as Daniele De Rossi is probably too old, and it would be wise to play Thiago Motta more, who distribution could be crucial. That's especially so, because they run out two guys not too many people have heard of in Parolo and Giaccherini, who as you can see work harder than just about anyone. Giaccherini got on the end of the Bonucci pass to score and Parolo was cms away against Sweden.
I still can't figure out which is more shocking: seeing Graziano Pelle on top of the XG player rankings, or Eder scoring a game-winner, but both of those things happened.
Italy won't surprise anyone by playing beautiful possession football, like Spain, but they are set up perfectly for this knockout format, where all the teams they will face (Spain, Germany, France, England) will dominate the ball and allow them to counter at will. Perhaps 16 to 1 to win the whole thing doesn't sound so bad now?
4.Spain – were number one on the list until an unfortunate Croatia match, where their hitherto dominant performance was undone by some Croatian counters. The stats models still love these guys
 but that unexpected loss (the first since 2008 at the Euros) suddenly posed some huge questions: Is there a deeper problem with this squad, or was it just a matter of a poor match? In the defense, which Sergio Ramos, Jordi Alba and Juanfran will show up against Italy, the ones who looked like they were playing against Andorra, or the Champions League/World Cup/Euro veterans? How does David de Gea get beat twice like some rookie?
In midfield, what can the great Sergio Busquets do if his teammates expose him to quick counters? Which Andres Iniesta will show up against Italy: the one that was brilliant for like 5 matches this year or the quiet one against Croatia? Or will there be another disappointing loss a la Brazil 2014, as the tiki-taka skeptics rejoice. Here is a little nugget for those guys: Hungary have hit more shots on target with 15, than Spain at 14!
In the loss to Croatia, the passing was still well-structured and penetrating, but can Nolito and Morata offer enough quality in finishing, particularly against the mammoth Italy/Juve trio in the back?
If the XG models are any indication, the answer is yes, as Alvaro Morata has the best expected goals per 90 minutes!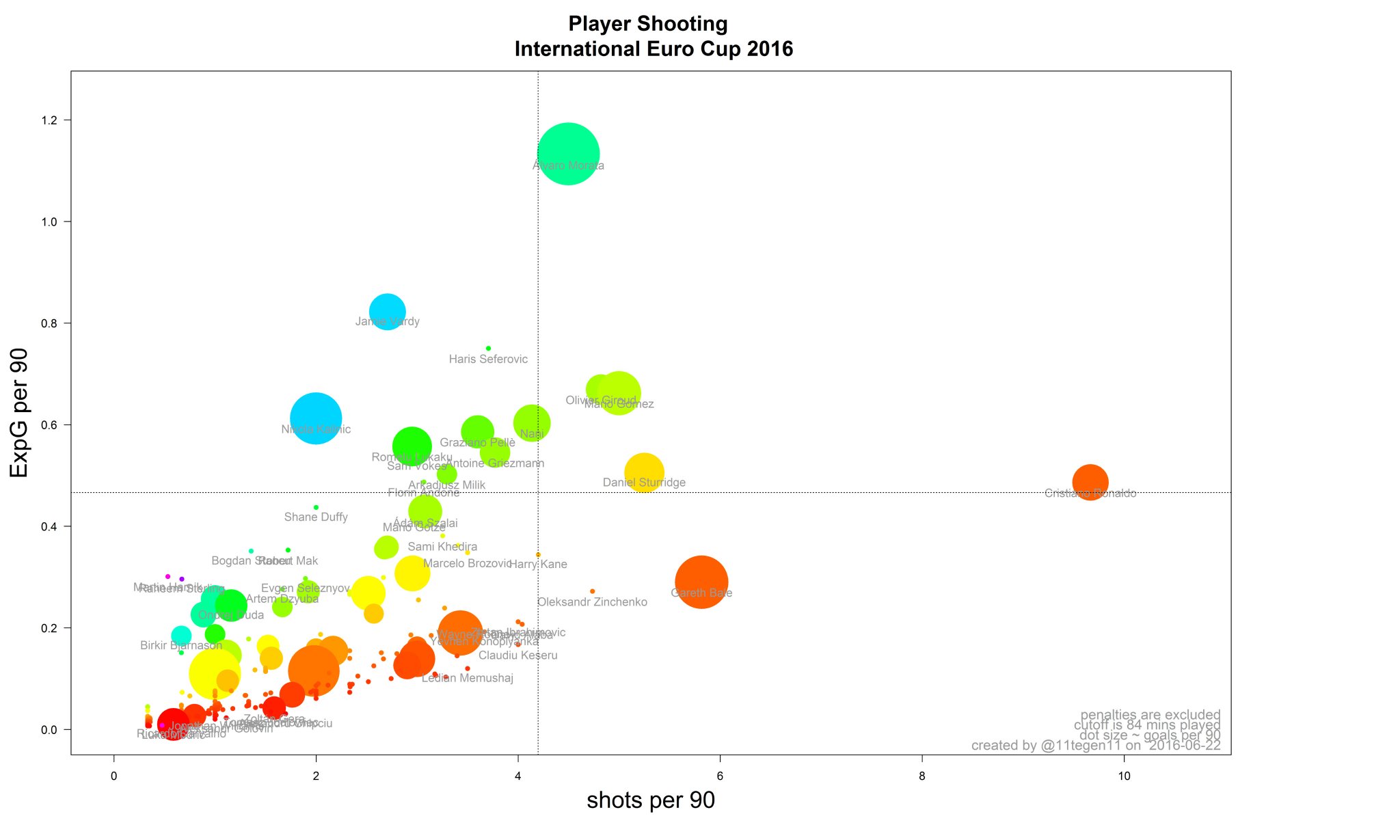 One thing we know is that we will get answers to those questions!
3.France – are the favorites at 4 to 1 to win the tournament at Oddschecker, despite a less than stellar campaign. While the hosts have one of the strongest squads, other than Dimitri Payet one would be hard pressed to name a French player that has met expectations. The team stats are funky as well, they produced a solid number of shots at 50, but only ELEVEN have hit the target, a number that is tied with Ukraine and Austria. On the flip side, they have somehow only conceded TWO shots on target, two fewer than second place Germany, though that says more about the awful finishing in group A than about their defense. There are further problems: Patrice Evra is somehow dominating in the air, but is still a 35-year-old LB who struggles, while Kante is a monster at winning the ball, but there are questions to his fit in a possession-based side. They had to bring on Yohan Cabaye and Moussa Sissoko, as Blaise Matuidi was made the scapegoat in the center of the park. The weird disciplinary benching of Pogba (losing 18 balls in 212 minutes!), Griezmann looking visibly exhausted, the strange merry-go-around of Coman and Martial, or Giroud predictably failing to score, despite taking all nine of his shots from inside the penalty area, are all real issues. There also have to be some concerns over Didier Deschamps penchant for overreacting, and it would not surprise me if he did something dumb in the quarterfinals that would cost les Bleus against England.
Of course, thrashing Ireland and gaining more momentum in a difficult win over England and then beating Germany/Spain in the semis and whoever makes it from the weaker side of the bracket is also totally in play.
2.Croatia should probably be ranked number one, if it weren't for their lack of history. One of the more fun teams in recent memory, they play a direct counterattacking style that has been slowly coming back into fashion. While Luka Modric and Ivan Rakitic are household names due to their club team achievements, there is a lot more to love about the Croats. Ivan Perisic has understandably made headlines as the player of the tournament, due to his devastating speed and finishing something that Juanfran, De Gea and Pique could tell you more about. At 27, he is a former French and Belgian league journeyman, who famously clashed with Jürgen Klopp at Dortmund and was shipped off to Wolfsburg. He lasted two years before moving to Inter in the summer of 2015, where he amassed seven goals and five assists. He is currently on an epic hot streak for the national team, having scored six times in ten goals. Speaking of Inter and epic, Perisic's Inter teammate Marcelo "EPICBROZO" Brozovic who is not just an Instagram celebrity, and a Serie A phenom after averaging 3.5 shots per match. No word on his fatalities per match…
Darijo Srna somehow refuses to age at right back and is by all accounts one of the genuine good guys in world football, donating frequently to orphans and schoolchildren. Vedran Corluka, he of the waterpolo cap fame has been so dominant in the back with 6.3 clearances and 3 interceptions per game that he has not needed to make a tackle!!! Speaking of defense and tackling CDM Milan Badelj and LB Ivan Strinic are combining for 8.5 tackles and 4.5 interceptions per game.
While Mario Mandzukic hasn't really hit form and Tin Jedvaj and Sime Vrsaljko struggled in the first 25 minutes against David Silva, the depth of this team is astounding: Real Madrid starlet Mateo Kovacic and former Leicester and current Hoffenheim ace Andrej Kramaric have combined for just 40 minutes.
There's a real chance that they can make history by reaching the finals, they just need to get past Portugal, Poland and likely Belgium. While that's no easy task, it's still a whole heck of a lot easier than the other side of the draw.
1.Germany is the best team in our power rankings, and the XG model agrees.
They are underperforming by three goals, and still don't have the solution at forward, but that never stopped them before:
Brazil (Possible, 4-2-3-1): Cesar; Maicon, Luiz, Dante, Marcelo; Gustavo, Fernandinho; Willian, Oscar, Hulk; Fred.
Germany (Possible, 4-3-3): Neuer; Lahm, Hummels, Boateng, Höwedes; Khedira, Schweinsteiger, Kroos; Özil, Müller, Götze.
http://www.telegraph.co.uk/sport/football/world-cup/10951798/Brazil-v-Germany-World-Cup-2014-match-preview.html)
Per Footyintheclouds, they are second on total shot +- with +48, first in total shot ration at 81.6%, second in shots on target for with 21, first with 4 SoT against and first with a + 17 SoT net rating. 37 shots in the box for with just four against also gives them a +33 net rating and leads all teams. Those numbers are even more impressive when you consider that only FIVE teams have a worse conversion rate than Germany's 4.8%.
They are leading in possession with 66.5% and second in pass accuracy at 88.5%. Defensively they have not allowed a goal and are letting just 4.7 shots a game, an unthinkably low number.
Their passing and position maps are basically a work of art:
With Kimmich solving the right back conundrum, and faith that Thomas Müller, arguably one of the 10 best players in the world coming off a career season will not go scoreless for the entire tourney, Germany should go all the way. They do have a tough draw from the quarters on, but Brazil and Argentina were not cupcakes either….